D.T.P. Web-Designing and Office Automation

Provides you with the skills and graphic design competencies in software required for effective work practices in this sector
About the course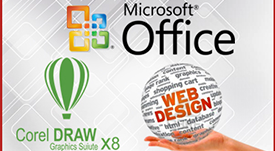 Desktop publishing is the use of a personal computer to perform publishing tasks that would otherwise require much more complicated equipment and human effort. Desktop publishing allows an individual to combine text, numerical data, photographs, charts, and other visual elements in a document that can be printed on a laser printer or typesetting machine.
Desktop publishers work as project administrators, production specialists, graphic artists, printers/typesetters, editors, and in public relations. They work with books, magazines, catalogs, directories, and various other types of printed documents.
The course also provides candidates a better understanding of the web and the art of designing a website.
Course contents
Fundamentals
Windows, Paint Brush, Notepad, Wordpad
DOS (Disk Operating System)
Microsoft Word 2013
Microsoft Excel 2013
Microsoft Power Point 2013
Internet
FoxPro
Tally ERP
Outlook Express
Microsoft Access 2013
Photoshop CS5
Corel Draw 15
PageMaker 7.0
Illustrator CS5
HTML
DHTML
XML
FrontPage
Dream Weaver
MX Flash
Web Hosting
Javascript
Assignment and Project work