Diploma in Office Automation

Fundamental of Computer, Internet, Operating System, Office Automation
About the course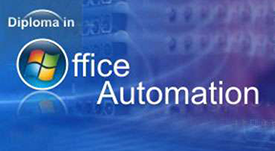 Course aims to create excellent accounting technicians who can understand and present the financial health of organizations. The course trains students to be well versed in accounting concepts - right from recording transactions to income statements, balancesheets, trial balance and accounting cycle.
The participants are trained to master Tally ERP 9 and Reach Accountant, two leading financial and office automation tools, and use them for accounting, inventory, tax and related modules.
The course teaches word processing, spreadsheet and presentation software tools of Microsoft, and help participants to enhance their accounting/mathematical skills and increase their productivity.
Course contents
Fundamentals
Windows, Paint Brush, Notepad, Wordpad
DOS (Disk Operating System)
Microsoft Word 2013
Microsoft Excel 2013
Microsoft Power Point 2013
Internet