Diploma in Digital Marketing

Understand how to use the Internet as an effective marketing channel
About the course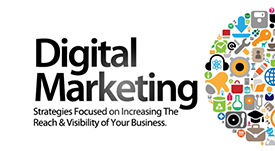 Internet penetration and usage in India is going up at a rapid pace and businesses need to get into digital marketing – else it becomes very difficult to sustain their business.
Qualified candidates with relevant experience are almost a rare species in this day and age. I will not get into the statistics but believe us when we say: digital marketing is the most exciting, highest paying and satisfying job in the market today.
If you have no digital marketing background, the first step for you is to learn digital marketing systematically. You can do that by joining our diploma course in Digital Marketing.
Course contents
Google Ads
Youtube Ads
Mobile Ads
Social Media Ads
Website Designing